Thanks for supporting the Saskatoon Zoo Society
by purchasing one of our raffle tickets this summer!
The Saskatoon Zoo Society runs curriculum-connected environmental education programs for classrooms, public interpretation and outreach, day and summer camps, and other public programming. Our programs are designed to stimulate interest in animals, wildlife, and environmental conservation.

All proceeds support us in our mission: fostering respect for nature through environmental education.

  Thank you for your support!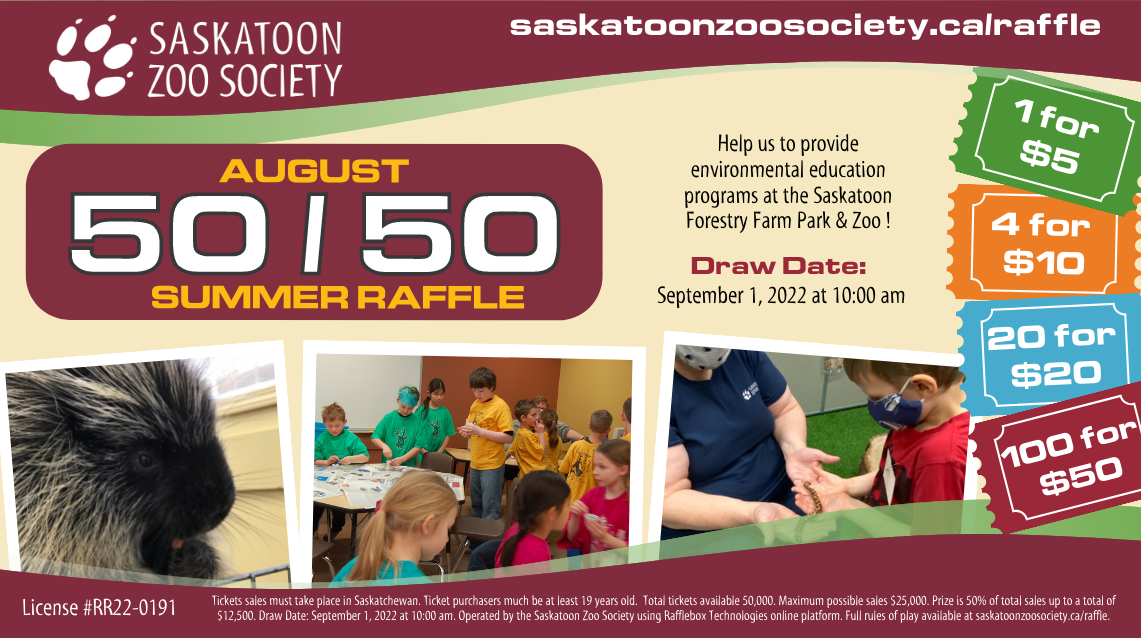 AUGUST 2022 RAFFLE
License No. RR22-0191
WINNER: Wyatt B.
Prize: $512.50
Ticket #D-1393

JULY 2022 RAFFLE
License No. RR22-0190
WINNER: Lynne Carmichael
Prize: $1,078
Ticket # C-3278  
Raffle Rules & Information
The raffle is in support of the Saskatoon Zoo Society Inc. Funds will support the administration and operations of the organization, marketing and fundraising, purchase of supplies and equipment, and other costs that we incur providing classroom education programs, public interpretation and community outreach, and other quality programs like summer camp, or to otherwise support the Saskatoon Forestry Farm Park & Zoo facilities and animals.

OFFICIAL RULES: The Raffle is operated under Provincial Lottery License No. RR22-0191 and is subject to all applicable federal, provincial, and local laws. By participating, entrants agree to be bound by these Official Rules and by the decisions of Saskatoon Zoo Society Inc., which shall be binding and final as to all matters related to the Raffle.

PRIZE INFORMATION:  The total prize value will be 50 per cent of ticket sales. The maximum value of ticket sales is $25,000 with a maximum prize payout of $12,500.

TICKET INFORMATION: There are a total of 50,000 tickets available. A maximum value of $25,000 value will be sold. The following ticket price packages are available: 
·        1 ticket for $5.00
·        4 tickets for $10.00
 ·        20 tickets for $20.00 
 ·        100 tickets for $50.00  

RESTRICTIONS OR ELIGIBILITY TO PARTICIPATE: Purchasers must be at least 19 years of age as of date of ticket purchase. Tickets cannot be purchased in the name of underage people. Tickets may only be purchased or sold within Saskatchewan. As the lottery is administered electronically, members, staff, volunteers and directors of the organization and their immediate family are permitted to purchase tickets. Employees and immediate family members of the raffle management company (Rafflebox Technologies) are not eligible to purchase tickets. Ticket sales will commence at 12:00pm on July 1, 2022. Ticket sales will cease at 11:59 pm on July 31, 2022. Entry purchases shall be final, and no refunds or replacements will be issued.

 THE DRAW: A single winning ticket will be drawn electronically by random number generator approved by SLGA. The draws will take place online, administered by the Saskatoon Zoo Society office located at the Forestry Farm Park & Zoo on September 1, 2022 at 10:00 AM.  The official winner will be contacted, and the winning ticket number will also be posted online at https://saskatoonzoosociety.ca/give/raffle/  

CLAIMING AND AWARDING PRIZE:  DETERMINATION OF OFFICIAL WINNER(S): The Saskatoon Zoo Society has sole and final decision on admissibility of entries and the determination of prize winner.  Following the draw, the winning ticket number holder will be contacted. To be determined as the official winner, the potential winner must:  · Be eligible to participate in the raffle and not in violation of these official rules,  · Complete the Saskatoon Zoo Society Prize Claim form. ·  Provide proof of his/her/their legal name, address and phone number with Canadian issued picture identification.  If a winning ticket has more than one name on it, the Saskatoon,  Zoo Society will award the prize to only the first name identified on the ticket. The Saskatoon Zoo Society and SLGA are not responsible for any disputes,  which may arise between different individuals whose names appear on the ticket. 

 PRIZE PAYMENT: The prize will be awarded to the Official Winner via cheque or EFT within 30 calendar days of the prize being claimed. 

PUBLISHING WINNER ANNOUNCEMENT:  Publishing the names of all lottery winners helps ensure the integrity and transparency of the operation of our lottery. The list of winners, including winner's name, city/town, amount won, and ticket number, will be published on our website and social media, as well as other publications (e.g. newsletter, Annual Report).

 UNCLAIMED PRIZE:  The winner will have 365 calendar days from the draw date to claim their prize. If the prize goes unclaimed beyond their hold date, the prize shall be donated to a charitable beneficiary approved by SLGA in accordance with Section 13(d) of the SLGA's Terms and Conditions. 

CONTACT:  Contact information for the Saskatoon Zoo Society in the event of a question, concern or dispute:  306-975-3395, info@saskatoonzoosociety.ca, 1903 Forestry Farm Drive, Saskatoon, SK. S7S 1G9. 

RELEASE OF LIABILITY:  Entrants, by participating in the Raffle, agree that the Saskatoon Zoo Society, SLGA, Rafflebox Technologies, each of their respective parents, affiliates, subsidiaries, partners, and advertising and promotion agencies, and all of their respective officers, directors, employees, representatives, shareholders, members, consultants and agents (collectively, the "Released Parties") are not responsible for any errors or issues arising  from the conduct of the raffle, and will have no liability whatsoever for, and shall be held harmless by entrants against, any liability for injuries, losses, cost, expenses or damages of any kind, including damages for financial loss, death, personal injury, property damage.