We're excited to have our WILD birthday program return as of June 25, 2022!


Spend your special day at the zoo!
Have fun with your friends and get to meet two or three of the Zoo's animal ambassadors in an interpretive program with our Party Host. Then, enjoy a space all to yourself for cake, drinks, and opening presents!

Birthday party packages are 1.5 hours and include a 45 minute interpretive program hosted by our staff with live animal ambassadors, and 45 minutes to enjoy a space all to yourself.

The birthday child will receive an Adopt-a-Critter package with a plush animal, and each participant will get an animal activity (sticker booklet) to take home.

Your zoo admission is included too! You can enjoy the entire Zoo and Forestry Farm Park before OR after your party time (within operating hours).

Parties are currently available for children ages 3 to 12. Parties run year-round on most Saturdays and Sundays from (A) 12:00 - 1:30 pm, (B) 2:30 - 4:00 pm, and (C - available May - September) 5:00 - 6:30 pm. We offer two party packages: Basic and Plus - see the details below. You can also add-on pizza or beverages.

Please note that attendees must wear a mask during the animal part of the program.

See the Frequently Asked Questions below for more details and information

When you're ready, click "Book Your Party Now". You will be brought to a different booking website to select your date. We post available dates 3 months in advance - if you're date isn't yet posted, check back again or give us a call.

         
Party for 4 adults and up to 10 children (including birthday child)
Includes Zoo admission
Adopt-a-Critter package with plush animal for the birthday child
Party for 6 adults and up to 15 children
(including birthday child)
Includes Zoo admission
Adopt-a-Critter package with plush animal for the birthday child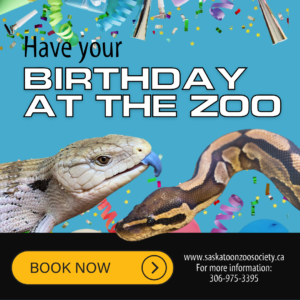 Frequently Asked Questions
Where is the birthday party program held?
All parties will be held at the Affinity Learning Centre.
This is located inside the Forestry Farm Park & Zoo – come to the Zoo parking lot. The ALC is right next to the Zoo entrance and the Administration building.  The Affinity Learning Centre is clearly labeled.
I am having a family birthday party and would like to bring in more adults than children. Is this allowable?
Please contact the Saskatoon Zoo Society Monday to Friday between 9:00 a.m. and 4:00 p.m. at
306-975-3395 and we will evaluate exceptions on a case by case basis.
Can we arrive early for set-up?
The door is always locked to the Affinity Learning Centre. A Saskatoon Zoo Society staff member will be waiting for your group 15 minutes prior to your program to allow you access to the room and set-up your presents, etc.
We are not able to provide earlier access to the room due to our busy schedule. This will not give much time for an elaborate set-up, so we don't recommend bringing additional decorations. Remember – the room is already decorated with a birthday banner and personalized for your child.
If there are additional decorations, they should be very minimal (remember – no balloons, glitter, or confetti and nothing can be put up on the walls or hung up anywhere).
Can we bring in decorations?
The Saskatoon Zoo Society will have a Happy Birthday banner in the cake room. 
We do not recommend bringing any additional decorations – there is very little time for set-up, you cannot hang things on the wall, and for the safety of our animals, balloons, glitter and confetti are not allowed.
How long do we have the room for cake and presents?
You will have approximately 45 minutes of private room rental to have cake, beverages, play a game and/or open presents (as applicable).
Can we order in food other than cake to eat during our program?
You can order pizza directly through your party package to have food served during your party program. No other outside food is allowed in the party room (with the exception of cake/cupcakes).
You are welcome to bring outside drinks (non-alcoholic) or can choose to add our beverage service (coffee & juice).
Other food options:
Order from the Buckeye Café and eat at the concession before or after your program. Buckeye is open seasonally ( which April 1st to October 31st each year) – you can pre-order food by calling 306-649-8001. Buckeye serves hot food (burgers, hot-dogs, etc.), snacks (popcorn, chips), hot and cold drinks, and frozen treats (ice-cream, slushies).
Hold a barbecue or a picnic in the park. There are campfire pits and picnic areas in the Forestry Farm Park.
Do you offer birthday parties for children under age 3?
For safety of both the children and our animals, we do not offer programs for children younger than 3. 
Do you offer birthday parties for children over age 12?
This is a possibility. The regular birthday program is designed to be engaging for younger children.
Please call us (306-975-3395) during office hours to inquire what we could arrange for older children, teens, or even adult birthday parties.  
Do we have to clean up the room after the program?
We ask that you assist with putting items into recycling receptacles and garbage in the garbage bins. Also, please wipe up any spills that may occur while you are in the room. Our staff will wipe down the tables and do a more thorough clean when you leave. 
What's an Adopt-A-Critter?
The birthday child will receive an Adopt-A-Critter package. This is a symbolic adoption for the species of their choice. It comes with a plush animal, as well as information on the species, a magnet and a certificate.
You can select from any of the species currently available in our Adopt-A-Critter store –https://saskatoonzoosociety.ca/shop/
Do we have to have all four parents stay for the Birthday Program?
No, the numbers are the maximum allowed for the program; not all adults need to stay. We do request that a minimum of two adults do stay for the program to support the party host in managing the group (when they need to attend to animals).
If I have less adults, can I add more children?
No, our numbers are the maximum that you can have for the safety of our animals and to ensure we have adequate supplies for the party.
What if additional parents/kids wish to stay instead of just dropping off their children to the party?
If the additional parents/kids are not part of your total party package adult/kid count, then they will not be able to take part in the birthday party program.
Additional parents and children are welcome to tour the zoo or park on their own while you do the Birthday Party program.  They can pay facility admission if visiting the zoo (during regular operating hours) and then rejoin your group in the zoo or forestry farm park.
In lieu of gifts, can we collect donations for the Saskatoon Zoo Society's environmental education programs?
Certainly! Please inform our staff of your intention or make a note when you book your party. We can issue you a charitable receipt for donations (over $20) after your program. 
Some of my guests have limited mobility. Does your facility accommodate this?
Yes, the Affinity Learning Centre is wheelchair accessible and all on one level. Please enter any information you think we should know at the time of booking to ensure we are aware of any special needs that you believe will require extra consideration from our staff. 
Is parking included in the birthday party package?
No, parking is not included. There is a $4.00 charge (2022 rate, subject to change) per vehicle charged when entering the park from May to the September long weekend.
For anyone dropping off their children and then exiting the facility, they can provide the birthday party child's first and last name and they will be able to enter and then leave the premises without a charge. They must say the child's name again upon return to pick up their child. 
Do we get a discount if we have a season's pass?
There is not a discount for season pass holders.  The season's pass is operated by the City of Saskatoon and not the Saskatoon Zoo Society.
What if the weather is bad on the day we're booked?
The Birthday Party program is completely indoors, so weather will not affect our ability to host your birthday.  
Please travel safely – if you are running late due to weather/road conditions, please contact us at 306-975-3395 and we'll do our best to adjust.
What is your cancellation policy?
There is a non-refundable charge of $25 for each cancelled program.
Programs cancelled with less than 3 weeks notice are NON-REFUNDABLE. If cancelled with more than 3 weeks notice, your fee will be refunded less $25. 

In the event the Saskatoon Zoo Society has to cancel your party (only under extreme circumstances), your fee will be fully refunded. 
If you do need to cancel your program, please contact info@saskatoonzoosociety.ca or phone 306-975-3395.
Are gift bags available for purchase with the birthday party package?
Not at this time, but we will re-evaluate this at a later date. 
What should we know about bringing our own cake and/or beverages?
FOOD:
The Saskatoon Zoo Society has a standard fridge on-site that can be used for cake or cupcakes. The freezer space is small. Please inform your guide that you wish to use the fridge as you enter for the party. You must supply the plates, cutlery, etc. No other outside food is allowed.
If you order food with your Birthday Party Package through the Saskatoon Zoo Society, plates and cutlery will be provided for you.
DRINKS:
You are welcome to use our coffee maker (has filters) to make coffee for your adults. You must supply the coffee grounds, sugar and creamer for your guests. No Alcohol is allowed at the zoo.
You are welcome to bring beverages (e.g. juice boxes, cans of pop) or to use our juice jug (bring your own powdered drink crystals). There are recycling bins in the room. There is also a sink for tap water in the room if participants bring water bottles.

If you add beverage service to your Birthday Party package, coffee and cream/sugar will be prepared and provided, as will juice and cups.
Can we choose which animals our child gets to visit with during the program?
You can make special requests but we cannot guarantee which animal will be present. Our animals are selected each day based on their overall health and the amount of time they have already been out in any given week. For these reasons, we reserve the right to choose which animals come out for the party.
COVID – Are Masks are Required?
Masks are required during the animal ambassador portion of your program. This is because we have some animals that are susceptible to COVID and we want to do our best to protect them. If you are not wearing a mask you will not be able to participate in the animal part of the program – please ensure your guests are aware of this in advance. Masks are not required while touring the zoo.
How do I know if my date is available on the Book Now site?
We use an online booking platform called Active. You can click "Book my Party Now" to be taken to the site and see if your dates are available.
Birthdays are available year-round.
We post birthday dates on Active about three months before.
If your date is more than three months away, please come back at a later time to book.
If your date is within three months and shown as "Wait List Only" this means someone has already booked that date. You can sign up for the wait list if you would like AND or choose another date close to your preferred date. You can sign up for as many waitlists as you want.
If your date is within three months but not available on the calendar, this means birthday bookings aren't available that day (other programs are using our classroom/party spaces, or staff holidays). Please choose another date close to your preferred date.
What is the Animal Activity that each child receives?
The activity is a "Zoo-Venture" Sticker and Activity booklet.
It is designed to have some fun while exploring the zoo. It should take about 45 minutes and will take you to many areas of the zoo.
You will receive detailed instructions and all of the supplies. Basically, each child receives a sticker booklet and the adult gets the corresponding stickers and instructions. The booklet has eight mystery animals – there are riddles that will lead you to their different animal enclosures (e.g. We're on the prowl, this animal likes to howl). Have the children guess and then go to that enclosure. If they're correct, the adult gives each child the corresponding animal sticker (e.g. wolf) and helps them apply it to their booklets.
There are other fun facts, games and puzzles in the booklet and it will provide a keepsake for each child from the party. 
What can I expect? What happens at the party program?
Your Birthday at the Zoo Program
Your birthday party program is booked for 1.5 hours. (either: (A) 12:00 – 1:30 pm, (B) 2:30 – 4:00 pm, or (C) 5:00 – 6:30 pm).
The party host will be ready for you at the ALC 15 minutes before your program.
In your 1.5 hours, you'll:

be greeted and welcomed to the ALC by the Party Host and shown to your party room where everyone can leave their jackets, presents, etc. 
be brought to the animal classroom. There you'll have an approx. 35-45 minute program hosted by our SZS interpreter and get to meet and learn about several of our live, animal ambassadors.
then, you'll go back to your private party room and have approximately 35-45 minutes for your own party program (games, opening gifts, eating cake, etc). If you have ordered food service, it will be served during this time. 
at the end of your time, your party host will help you tidy up the room, gather your things and either head home, or head into the zoo. 

You will receive an Adopt-A-Critter birthday gift package for the animal you've chosen for the birthday child. 
You will receive an animal activity for each child birthday attendee. This is designed to complement your birthday program and provide an activity while touring the outdoor zoo exhibits, but can also be done at home. 
If you are visiting the zoo before the program, go to the admissions window when you arrive to receive your activity package and be allowed in to the zoo. If you're visiting the zoo after your program, the Party Host will give you the activity and let you into the zoo. 
What's an Animal Ambassador? What Animals will we meet?
Animal Ambassadors are our socialized animals that participate in classroom and public interpretation programming. They are used to being handled and can be brought in to the classroom from their enclosures. These are the animals that you can meet in your programs.
Examples of our animal ambassadors include a ferret, hedgehog, porcupine, salamander, corn snake, royal/ball python, schneider's skink, blue-tongued skink, hognose snake, garter snake, and a sand boa. New animals are added as they become socialized.
You can see and visit the larger animals while touring the zoo before or after the program. The exhibit animals (wolf, bears, dingoes, snow leopard), are not animal ambassadors involved directly in classroom programming.