The Saskatoon Zoo Society offers exciting public interpretation programs and activities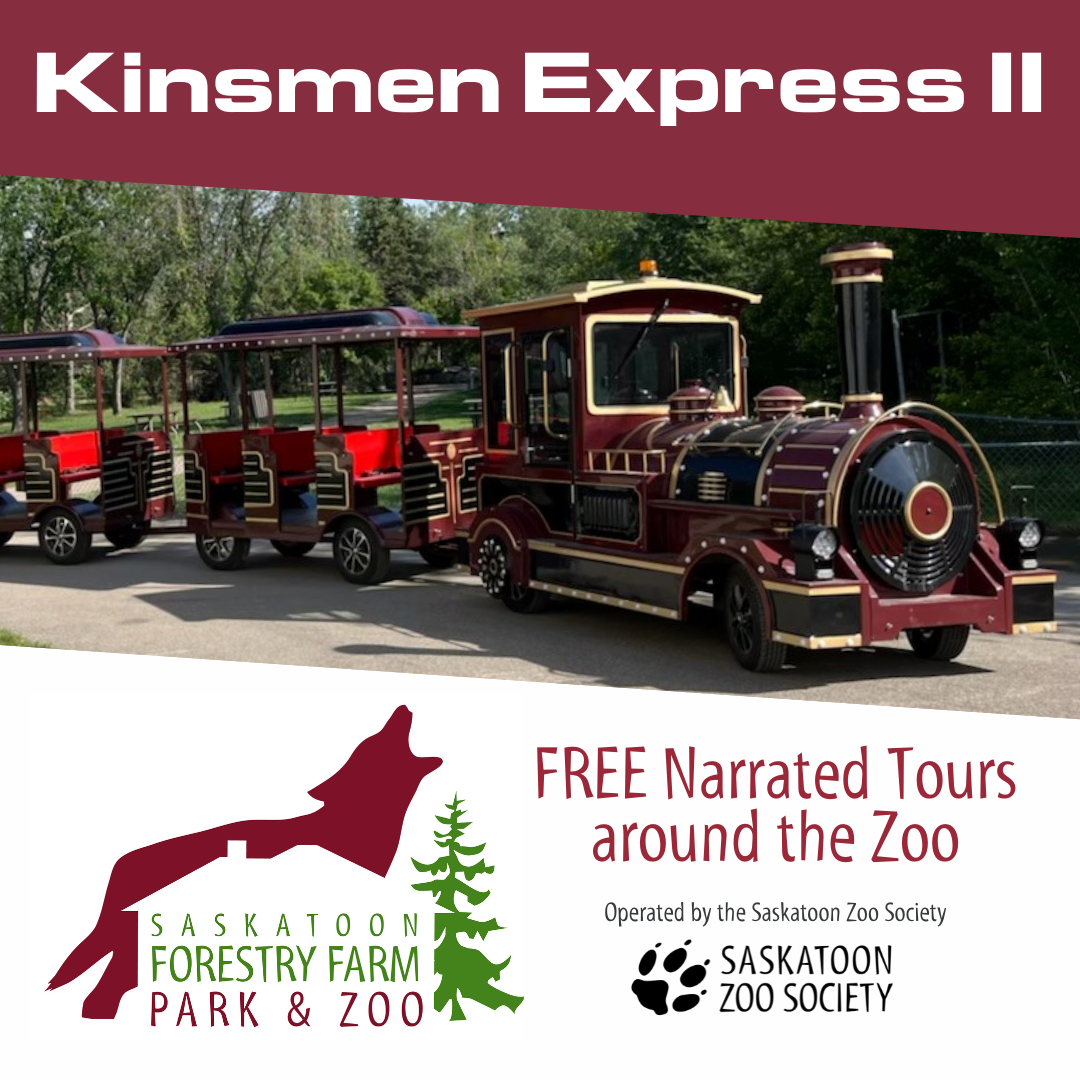 Kinsmen Express II
All Aboard! The new Kinsmen Express II offers a guided train tour of the Zoo and is a fun way to learn more about the wild and wonderful animals at the Saskatoon Forestry Farm Park & Zoo. The train is free to ride with your Zoo admission and is equipped with a ramp and wheelchair accessible car.
Hours of Operation
| | June, July & August | September 1 – Labour Day |
| --- | --- | --- |
| Monday to Friday | 10:00 a.m. – 4:00 p.m. | 10:00 a.m. – 4:00 p.m. |
| Saturday & Sunday | 10:00 a.m. – 4:00 p.m. | 10:00 a.m. – 4:00 p.m. |
In the event of inclement weather, Zoo tours will pause until it is safe to resume.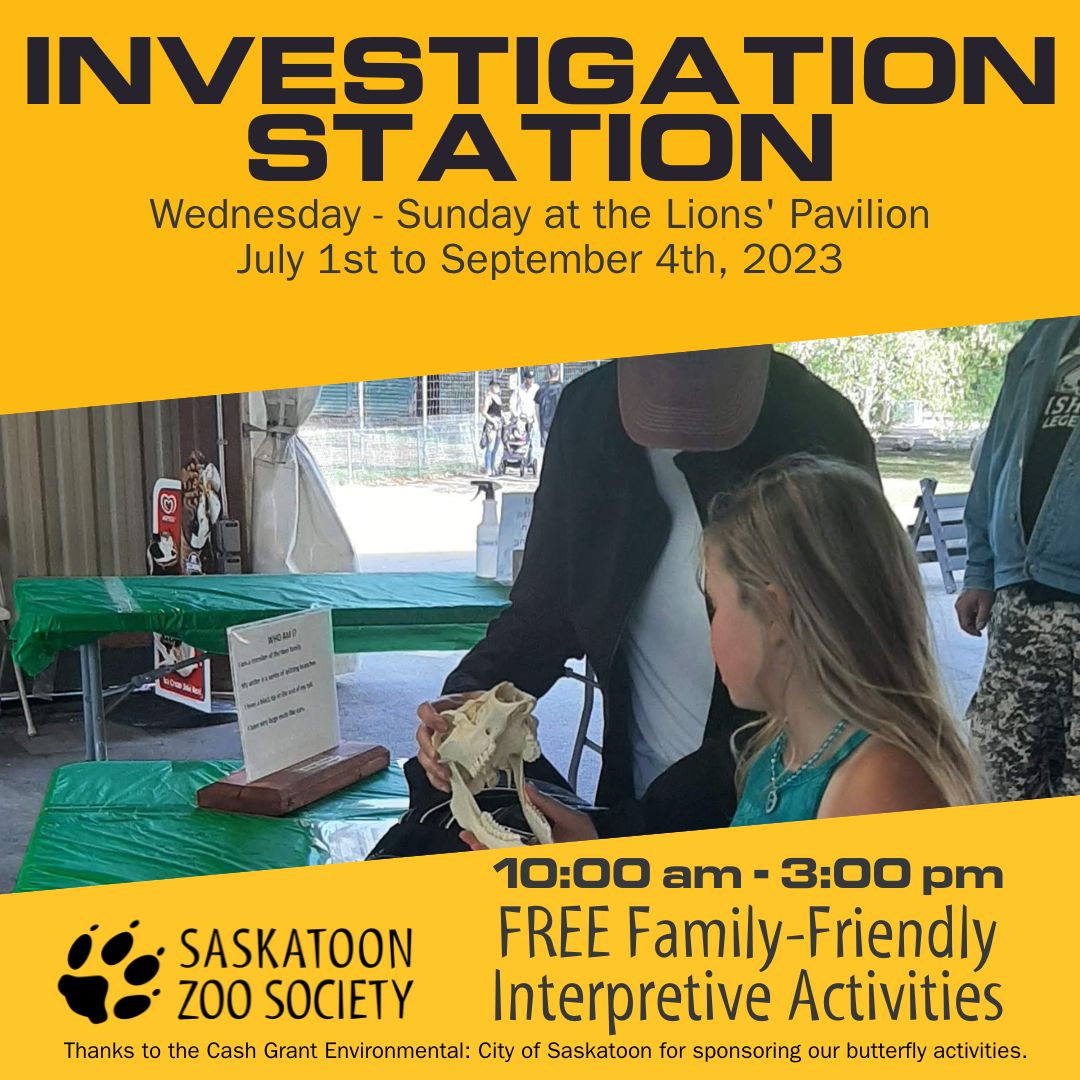 Investigation Stations
Our interpreters are operating Investigation Stations all summer long!
We've set up an assortment of family-focused interpretive displays and activities. They'll pique your curiosity and teach you and your little ones something new about our zoo animals, Canadian animals, ecology and the environment!
Our 2023 pavilion is focused on butterflies to celebrate the grand opening of the Prairie Butterfly House. Thanks to the City of Saskatoon: Environmental Cash Grant for supporting our butterfly interpretation.
Stop by and visit our staff and volunteers at the Lion's Event Pavilion in the Zoo.
Hours of Operation
| | | July 1 – Labour Day |
| --- | --- | --- |
| Wednesday to Sunday | | 10:00 a.m. – 3:00 p.m. |
| Monday and Tuesday | | Closed |
Back for 2023 FREE Public  Pond Program.
We will have an interpreter at the dock leading hands-on activities that will let your little ones learn all about aquatic invertebrates. Our interpreters will be out at the pond everyday starting July 4th until August 27th, 2023 at the Prairie Marsh*
This program is funded by the Saskatchewan Lotteries Community Grant Program supported by the Saskatchewan Lotteries Trust Fund and the City of Saskatoon.
No pre-registration required – just head to the pond. Space is limited.
Hours of Operation
| | | July 4 – August 27, 2023 |
| --- | --- | --- |
| Monday to Sunday | | 9:15am to 2pm |
Please Note: The Prairie Marsh is the pond located inside the zoo near the pronghorn (not the fishing pond located in the Forestry Farm park).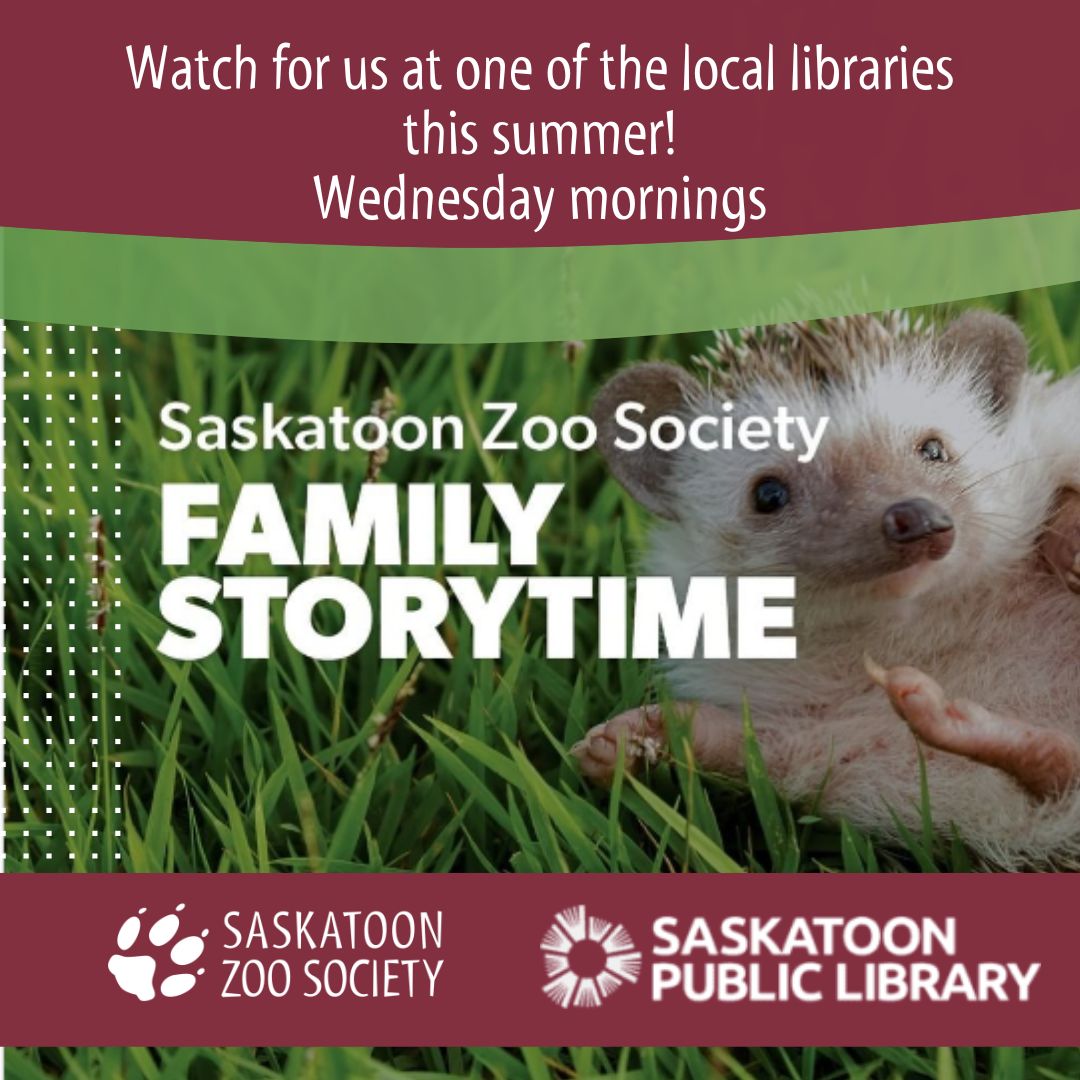 We're proud to partner with the Saskatoon Public Library
Come meet our Animal Ambassadors who will be dropping in during Family Storytime on Wednesdays this summer!
Dates: Wednesdays for 6 weeks in July and August
Time: 10:30 a.m.
Location: Dr. Freda Ahenakew Library: July 19 and July 26th; Carlyle King Library: August 2nd and 9th
No pre-registration required for this drop-in program. Space is limited so come early!
Watch for more dates in the fall. We're excited to get to partner with our friends at the Saskatoon Public Library again for this family-friendly program.